Available Homes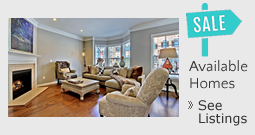 Coming Soon Listings
Latest Listings
Luxury Townhomes & Condos
New Construction Homes
Just Listed Townhomes & Condos
Condo/Townhome Buying Guide
ABCs of Condo/Townhome Living

Read Our Blog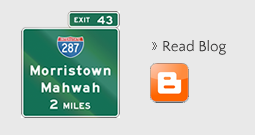 Morris County Living: Everything About This Great Area
Historical Morris County, New Jersey nestles amid rolling hills, broad valleys and glittering lakes approximately 30 miles northwest of New York City and is one of the fastest growing counties in the New York Christie's International Real Estate Northern New Jersey area. It is a great place to live, raise a family, relax and enjoy life!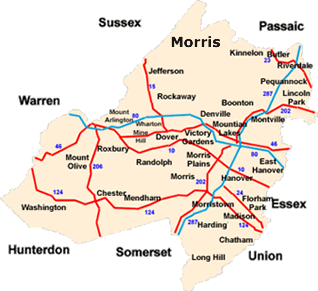 Today's Morris County
Today, Morris County is New Jersey's seventh largest county. There are 39 Towns in the 477.8 square mile county and approximately 470,000 persons reside in Morris County.

One of the ten wealthiest counties in the United States, Morris County has long been recognized as a prime setting for business and family. In fact, Morris County was Rated as the 6th Best County in America to Raise a Family by Forbes Magazine in it's July 2008 Issue ranking U.S. counties with populations over 65,000.

It offers historic views, countryside charm and the conveniences of modern-day towns. Multi-million dollar shopping centers and highway merchandising malls have combined with construction of world headquarters of name brand firms, discount houses, chain stores and food markets.

Much of its beauty has been protected and preserved by the Board of Chosen Freeholders through its Park Commission, formed by referendum in 1955 to set aside and develop land for leisure time and recreational use. Nearly 13,000 acres make up the system, one of New Jersey's finest is noted statewide for its recreational facilities and preservation of Morris County's natural landscape. Included are outdoor education centers, a marina, golf courses, a riding stable, indoor ice skating arena, cultural center, arboretums, and numerous types of hiking, cycling, wildflower and nature trails.

Newcomers to Morris County can look forward to state-of-the-art healthcare services and facilities anchored by major hospitals and medical centers. Chilton Memorial Hospital, St. Clare's Hospital Denville, St. Clare's Hospital Dover, and Morristown Memorial Hospital are among the major institutions that provide leading-edge treatment and diagnostics. Morristown Memorial Hospital alone offers 600 beds, serving as a regional resource for highly advanced services that include tertiary care. Through the county, skilled physicians and dentists in private practice, family practice clinics, emergency care centers, same-day surgery centers, and other specialized facilities meet every need.


Roads, Public Transportation
Major interstate highways (80, 10, 46, 287, 280) connect many municipalities. New Jersey Transit serves thousands of county commuters daily. In addition, the Central Railroad of New Jersey, the Morristown & Erie Railroad and the New York, Susquehanna & Western Railroad cross the county. Bus service links the 39 municipalities to the Christie's International Real Estate Northern New Jersey region. Two airports are located within Morris County. The county is bisected by a fine network of approximately 2,000 miles of federal interstate freeways, and state, county and municipal roads.


Education
Morris County's commitment to excellence is never more evident than within its educational system, from outstanding public school districts to respected private and parochial schools. A full complement of programs for the gifted and challenged combines with a strong core curriculum and outstanding vocational and technical training opportunities for students of all ages. Those seeking a higher education will find a selection of quality colleges and universities in Morris County: Fairleigh Dickinson University and Drew University are in Madison, the College of St. Elizabeth is located in Convent Station, and County College of Morris is available in Randolph. Considering that one out of every four high-school graduates attends the County College of Morris, the wide appeal of its diverse two-year programs has been proven time and time again.

Morris County is the home of three universities (including Drew University, Fairleigh Dickinson University, College of St. Elizabeth), a two-year County College, and a County Vocational Technical School. One of every four high school graduates in Morris County attend the County College of Morris which reports a capacity attendance both for full-time and part-time courses. The high registration reflects the fine academic standings of the college, the wide appeal of its varied curriculum, and the relative cost-value of its programs in comparison to other institutions.


Housing
Few sections of New Jersey can offer the selection of housing found in Morris County, where the choices range from landmark homesteads to elegant mansions and contemporary properties with every amenity. Throughout the county, comfortable garden apartments and efficiency split-level homes mix with rambling Georgian and Victorian estates that feature sweeping lawns and meticulously landscaped gardens. Large-scale housing developments have blossomed in recent years, especially in outlying areas where large tracts of land were once devoted to agriculture.

Housing options in Morris County range from Single Family Homes, Condos and Townhouses in towns or the countryside, to apartment and condo and townhome rentals. You have choices from intimate, seven-unit renovated Victorian buildings to 500-unit development with amenities such as a club house, swimming pool and tennis courts or perhaps something in between.


Shopping
Shopping is available in larger malls and major retail districts, although the county excels in antique treasures and delightful boutiques that are tucked away in odd corners. "The Green" in Morristown dates back to the colonial era, bordered by more than many stores and restaurants, a thriving business center, entertainment centers, and a retail promenade. Many of the contemporary shopping centers feature branches of famous New York stores without the "Big Apple" price tags. Cultural activities and events range from outstanding galleries and museums to the performing arts. The area's close proximity to many of New Jersey finest arts and entertainment venues combine with easy access to Manhattan and Broadway theaters for leisure options that are unrivaled. Local festivals, celebrations, concerts, parades, and holiday events play an important role in the tranquil yet lively Morris County lifestyle.


Parks & Recreation
Lush parks are strategically situated to offer Morris County easy access to recreational amenities and facilities. Riding stables for equestrians, excellent golf courses, ice-skating arenas, cross-country ski trails, outdoor education centers, summer music festivals, swimming areas and facilities, bike paths, multi-purpose trails, arboretums, and nature centers are some of the quality attractions. Drawing more than two million visitors each year, these meticulously maintained parks encompass almost 11,000 acres of recreational and educational facilities. Overnight camping, sports fields, picnic sites, para-fitness courses, and lovely gardens make these green spaces a cherished playground for all ages. Bringing together spectacular natural beauty, educational excellence, successful corporations, and first-rate attractions, Morris County offers an idyllic home.

All of these factors coupled with a high quality of life have continued to attract many major companies and residents to Morris County.


Weather
Morris County weather vary widely from area to area, averaging in the middle 20's in the winter months and the low 70's in the summer. About 50 inches of rain and 35 inches of snow fall each year.


The Morris County Real Estate Experts
Rahul, Smitha and their team cover all of Morris County Real Estate, including towns like Boonton Boro, Boonton Twp, Chatham Borough, Chatham Twp, Convent Station, Denville, East Hanover, Florham Park, Hanover, Harding, Jefferson Twp, Lincoln Park, Long Hill Twp., Madison, Mendham Boro, Mendham Twp., Montville, Morris Plains, Morristown, Morris Township, Mount Arlington, Mount Olive, Mountain Lakes, Parsippany, Randolph, Rockaway Boro, Rockaway Twp., Roxbury, Succasunna, Washington Twp, Wharton, Whippany, etc. to name a few.


Please Contact Us and allow us to show you how we can help you in the purchase or sale of your home. You'll be more than Satisfied!




Other Links to Explore Morris County, NJ
We've got some great places for you to explore in Morris County, New Jersey. The links we've chosen will enable you to discover Morris County and New Jersey from the comfort of your home! New Jersey is a great place to live and we hope you will call us for all your housing needs!

State, Counties and Towns
Town Profiles (provides brief profiles of different towns in Morris County.)